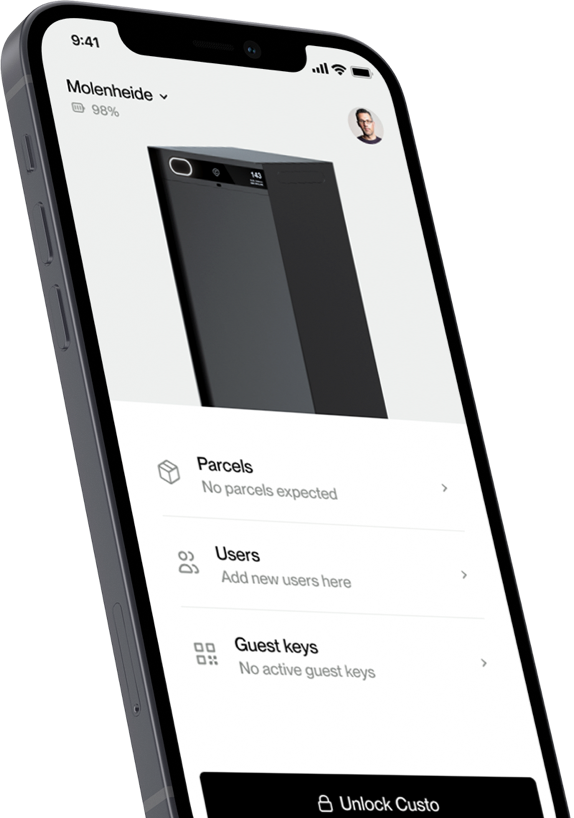 Custo helps you to take time for what really matters.
Your parcel assistent right in your pocket.
Custo® collects all shipping information about your orders in one place & sends you notifications, only whenever you want.
Included in free plan
Get notified every time your parcel gets delivered.
Discover Custo 1
Get notifications.
Custo® provides notifications when it is necessary. This way you will be the first to know about a received package.
But, only the ones you want...
You want to be up to date, but don't want an explosion of notifications. That is why you choose which notifications you receive and which we should keep to ourselves.
All track and trace information get's collected inside of the easy to use Custo app. Handy right?
Discover Custo 1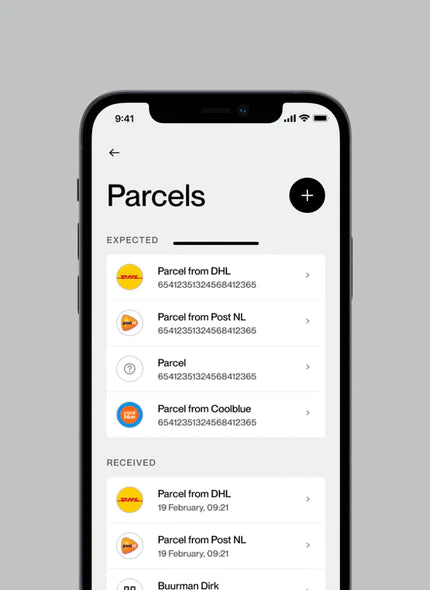 Everything you need in your pocket.
The Custo® app brings all information about your orders together in one clear list. This way you know exactly what is on its way and what has been delivered .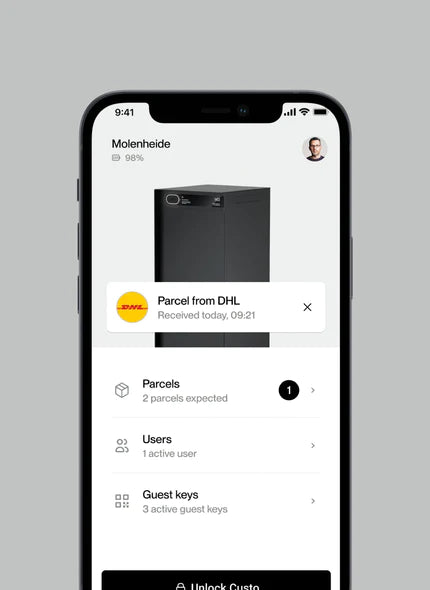 No more searching in tons of mails.
You no longer have to refresh your mailbox and separate dozens of receipt confirmations. Custo® makes a handy overview for you.
Included in premium plan
Have multiple users that can access your custo easily.
Discover Custo 1
Share with your neighbourhood.
Do you want to share your Custo® with family, friends or neighbours? No problem! Share your Custo® with up to 4 users but stay in control as the owner.
Set access for custom time periods.
You don't want to give a user profile? No problem! Give access to anybody, once or recurring, via unique in app generated QR codes.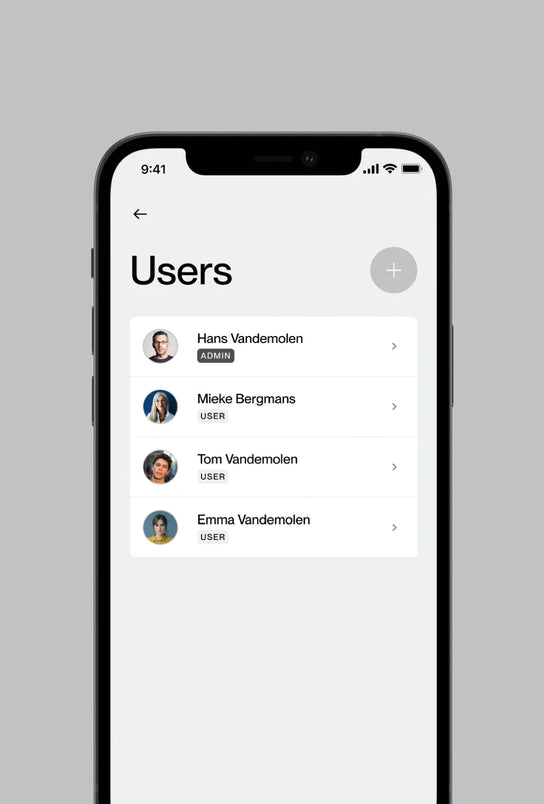 Included in premium plan

Feature coming soon
Open your Custo with the smart watch on your wrist.
Discover Custo 1
Just smack your smartphone near the sensor to open.
Simply open your Custo® with your smartwatch or your smartphone. Every user can set a smart device to open Custo®. You no longer have to search for the key.
Included in premium plan
Security levels for different kinds of parcels.
Discover Custo 1
No worries for expensive parcels.
You can easily increase the security level of your Custo® for the delivery of an expensive or important package. So no need to worry anymore when your precious parcel was delivered.
Sensor that knows your package.
Custo®'s sensor measures the properties of your package. So it is in safe hands, even with multiple deliveries.
Included in premium plan

Feature coming soon
Make returns all from in the app, no more going to the post office.
Discover Custo 1
01.
Never visit the post office again.
The trips to post offices, parcel walls and collection points are a thing of the past. You send your package from your mailbox.
02.
Return a parcel via the Custo® app
Our aim is to do courier returns straight from the Custo® app in order to stop wasting time & drastically reduce the ecological footprint of a return.
Curious to see what's included in our free and premium plan? Have a look.
| Custo® app features | Custo® free plan | Custo® premium plan |
| --- | --- | --- |
| Receive letters, newspapers, … | | |
| Receive parcels | | |
| App delivery notifications | | |
| Organise pickup via QR code | | |
| Track & Trace info for all couriers | | |
| NFC masterkey | | |
| Have multiple users with keys (max 4) | | |
| Unlock with your smartphone/watch | | |
| Monitor battery level | | |
| Change display information | | |
| Monitoring box | | |
| Security levels | | |
| Smart home connected | | |